Mar
3
An open rehearsal with Sònia Gómez iN RESiDENCE at the Institut Escola Turó de Roquetes school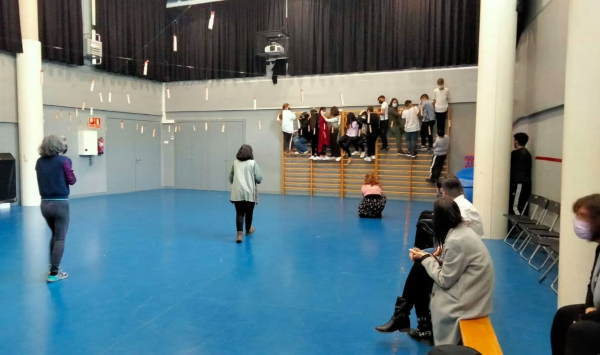 The educational centre links its first participation with iN RESiDENCE with the aim of placing performing arts as a common thread for the educational centre's project.  
It is the first time that an iN RESiDENCE 'contamination' session has been held at the Institut Escola Turó de Roquetes school, and the majority of the 1st-year teaching staff met in the gymnasium to find out about the creation process that had commenced five months ago. Sònia Gómez, the ballerina, performer and choreographer who is accompanying the students in the process, led the whole session as if it was an open dance session.
This authentic and live public rehearsal, which took place on 23 February, allowed the audience to see the situations and practices entailed in the creation process led by a group of 1st-year students. While Sònia Gómez explained each exercise, the youngsters performed them, along with active participation from Cristina Bielsa and Gemma Arcas, the teachers linked to this residence.
The group proposals were successively linked together throughout the 50-minute session. It was an impressive and surprising experience for everyone. For the teachers, it was a moment in which they discovered the different attitudes and positions of their students. They all appreciated that their centre was carrying out a creation and learning process, and they explained that they had noticed significant and positive changes in the student group.
As for the young artists, it was a turning point for them, as for the first time ever, they performed before an audience (their teachers), and they got to see how it felt to be in a context of being observed. At the end of the spring, their artistic research will reach its peak with a public performance and, probably, the most important thing for them in this 'contamination' session was to practice how it felt to perform in public.
Don't miss what's happening in this creation process commissioned by the Mercat de les Flors and Graner (Creation Centre for Dance and Live Art) explained and documented in the iN RESiDENCE blog at the Institut Escola Turó de Roquetes school.