Feb
21
Wandering around Montbau, an oral and photographic narrative: 'contamination' session with Jordi Lafon, iN RESiDENCE at the Institut Narcís Monturiol secondary school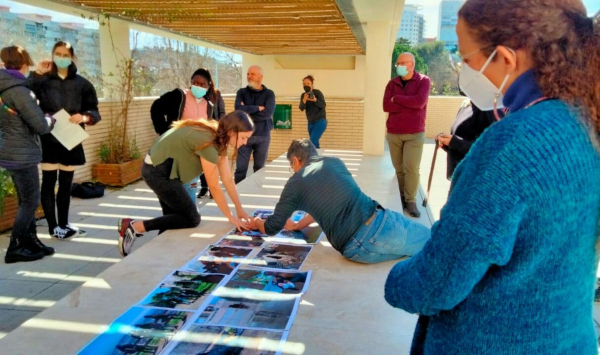 The secondary school's 4th-year students, who are participating in the programme for the fifth time this year, will create a publication with the results of their explorations.
The artistic proposal from Jordi Lafon at the Institut Narcís Monturiol secondary school is based on the concept of "drifting". As 4th-year student, Jeniffer Ahunwan says in the iN RESiDENCE blog: "it's about guiding or leading something from one place to another. Forming one word from another by changing its type of adding a suffix; or even giving it another meaning by changing its function. I think it has to do with what we do when we walk from here to there."
In this aesthetic practice of walking, a whole series of stories and findings have emerged, which the students shared in the secondary school's playground in a new 'contamination' session, aimed at the teachers and students of the educational centre. The presentation was very simple: while one of youngsters explained the discoveries found in the centre's surroundings, another student showed an illustrative photograph and stuck it on a bench. All this to gradually compose an artistic account based on their work as a result of wandering around.
The stories that emerged about the places, the people and the natural spaces they had discovered was overseen by a highly participative team of teachers. The explanation went from a youth centre that they had found to the artistic names of the streets in the neighbourhood such as Poesia, les Muses and Canço (Poetry, the Muses and Song).
Jordi Lafon explained that they will create a publication containing all the texts and photographs they are working on. As for the teachers attending the session, they expressed their satisfaction with it and asked the students to take them on a stroll around all the places they had discovered.
Follow the creation process and all the strolls in the project's blog by Jordi Lafon iN RESiDENCE at the Institut Narcís Monturiol secondary school.