Mar
3
Putting object and body shadows into play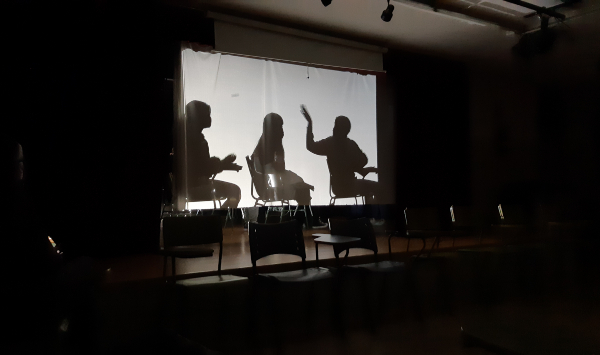 The 'contamination' session led by David Espinosa, iN RESiDENCE at the Institut Bernat Metge secondary school allows the formal explorations in this creation process to be shared with the teaching staff.
David Espinosa is a stage artist who started out in the world of dance and who is also developing proposals in the field of object theatre. On 23 February, the 2nd-year students participating in his residence at the Institut Bernat Metge secondary school presented a selection of the various practices and research that they have been developing together with their teacher Carlos Lòpez since last September to a large group of teachers. This creation process also has the mediation and the  accompaniment of Sala Hiroshima, a renowned team providing support and research in the world of new staging practices. 
The event hall at Bernat Metge was converted into a black box, ideal to host the demonstration based on shadow theatre. Using the stage equipment they had available, a simple device was set up with some fabric and a strong spotlight located behind the stage, thus projecting the silhouettes of the students and some of the objects, as if they were Chinese shadows.
Throughout the session, various practices were shared, with the students using their bodies behind the fabric, playing with everyday objects belonging to the school (chairs, desks, tables), with music and the projection of phrases in text format. Different students acted out movements, reproducing common scenes in the classrooms.  Others told a fictional story, for example, Unai Raez gave a live performance handling a variety of objects (castles, dragons, human figures and skeletons).
David Espinosa explained that they still hadn't started writing a specific script and that they weren't working from a classic textual play. To start with, they are just searching for tools and ways to express themselves, to gradually start introducing situations that entail performing in front of others, putting their bodies into play. For the moment, behind a screen.
If you would like to find out more, keep following the blog that documents the creation process led by David Espinosa iN RESiDENCE at the Institut Bernat Metge secondary school.