Nov
10
A new edition of iN RESiDENCE on the go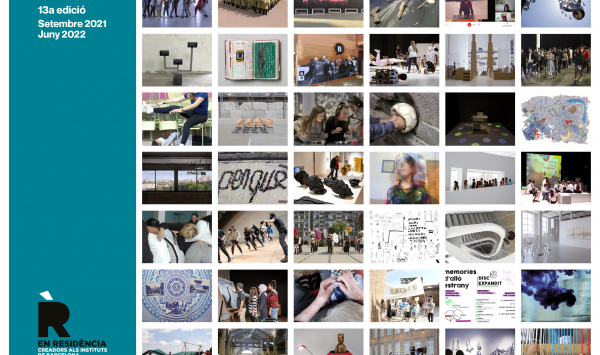 Over 10 months, 30 artists will develop creation processes in a total of 26 secondary schools in Barcelona
The thirteenth edition of iN RESiDENCE is now a reality! The 2021-2022 programme started last September with two new features. On one hand, the incorporation of four education centres. The Eixample Secondary School, Emperador Carles Secondary School, Rec Comtal Secondary School and Turó de Roquetes Secondary School will take part for the first time. In total, 26 secondary schools in Barcelona will host contemporary creation processes until June 2022. Two new teams are also incorporated into iN RESiDENCE. These are Hiroshima and B-Murals, who join the collective of the mediation teams, commissioned with carrying out the curation and coordination tasks that are essentials for the good development of the artistic creation processes in the education context.
Once again, together with the students and teachers of the secondary schools in the city, the artists carry out their creation processes where research, experimentation and team dialogue will work to find tools and create knowledge through contemporary creation.
Connections with diverse artistic disciplines
Visual arts, audio research, movement, new theatre arts, poetry, circus and performance arts, among others, are the areas through which the creation processes will be developed this year.
Discover the stars of this thirteenth edition here.
iN RESiDENCE, a programme that continues growing every year
The results of all these contemporary creation processes can be seen from the middle of next year. Once the 13th edition ends, 210 artists will have taken part in iN RESiDENCE, along with 3000 teenagers and 175 teachers from almost three quarters of the secondary schools in Barcelona.
We invite you to follow the day-to-day activities of the process on the iN RESiDENCE blog.
+ information in the dossier of the 13th edition of iN RESiDENCE